This superfood dessert gives you the perfect excuse to indulge with a combination of Tropeaka Maca and Tropeaka Camu, along with healthy fats and protein from cashews, almonds and coconut oil!
Ingredients
1/3 cup almond meal
2 tbsp finely shredded coconut
1/8 tsp salt
1 tbsp rice malt syrup
1 tbsp coconut oil, melted
1 cup soaked cashews
2 tbsp coconut oil
1/4 cup diced frozen mango
1/4 cup diced frozen pineapple
1/4 cup maple syrup
2 tbsp lemon juice
Zest of 1/2 lemon
Buy the products in this recipe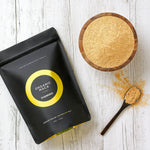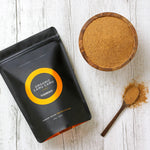 Method
1
Add all base ingredients into a bowl and mix well. Press into a lined/greased mini cake tin or mould and place into the freezer in the meantime.
2
Add filling ingredients into a blender and blend until smooth and creamy. Pour onto base and return back to the freezer for a few hours until set or place in the fridge overnight. Decorate with your favourite toppings and serve.
Click 'Allow' on the browser prompt to get browser notifications whenever we publish a new and exciting recipe!