NO-BAKE BROWNIES W/ CHOC CASHEW FROSTING
This delicious-ness is a piece of cake to create...well, technically it's a piece of brownie!
Ingredients
1 cup walnuts
1 cup cashews
1 cup or 12 Medjool dates, pitted
1/2 cup maple syrup
Pinch of salt
1 tsp vanilla extract
1 cup cashews, soaked overnight
1/2 cup almond milk
2 tbsp coconut oil
2 tbsp coconut oil
1/3 cup maple syrup
Buy the products in this recipe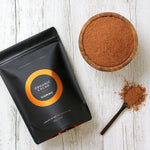 Method
1
Add walnuts and cashews into a blender or food processor. Process for 2-3 minutes on high speed until you reach a fine consistency. Add in cacao and salt and process again until well incorporated.
2
Add in Medjool dates and vanilla and process until dates have broken down.
3
Slowly pour in the maple syrup until you reach a sticky fudgy mixture (will probably form a ball in the food processor, that's when you know you're done).
4
Press into a lined cake tin and sit in the fridge.
5
In the meantime, add all frosting ingredients into a high speed blender and blend until smooth and creamy. Take out brownie mixture and pour on top, using a spoon or spatula to evenly distribute the frosting on top.
6
Return to the fridge for an hour before slicing up and serving. Top with crushed walnuts & a pinch of sea salt if desired.
Click 'Allow' on the browser prompt to get browser notifications whenever we publish a new and exciting recipe!