A deliciously warm and comforting addition to your day!
Ingredients
Pinch of sea salt
1/2 tsp vanilla extract
1 tbsp maple syrup
1/4 cup boiling water
3/4 cup plant-based milk, warmed & frothed
Extra cacao to sprinkle on top
Buy the products in this recipe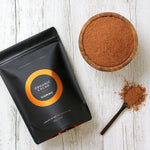 Method
1
Add the cacao, turmeric latte powder, salt, vanilla and maple syrup into a mug. Pour in the boiling water and whisk well until smooth.
2
Pour in the frothed milk, sprinkle extra cacao on top and serve immediately while hot.
Click 'Allow' on the browser prompt to get browser notifications whenever we publish a new and exciting recipe!